Caribbean sun and breeze, put to work by Richard Branson
February 4, 2014: 8:00 AM ET
NRG and Virgin will build renewable energy project at Necker Island.
By David Whitford, editor-at-large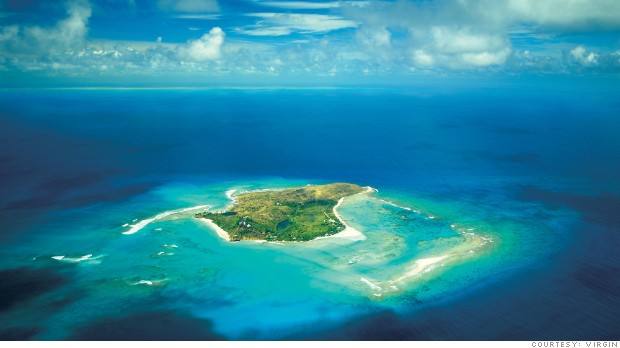 FORTUNE -- Here's a sad irony: No part of the world is more richly endowed with clean, endlessly renewable energy -- the sun, the wind, the tides! -- than the Caribbean. Yet none is more dependent on fossil fuels, mainly diesel, to generate electricity. It is dirty power and it is expensive -- anywhere from 40 to 55 cents per kilowatt hour across the region, or more than twice the going rate in even the most expensive U.S. markets.
That's the context for a joint announcement Tuesday morning by NRG Energy (NRG) and Virgin Group founder Richard Branson. Together they plan to outfit Necker Island, Branson's private retreat in the British Virgin Islands, with a state-of-the-art green energy system designed to offset 75% of Necker's diesel consumption. The project is contingent on BVI government approval and will take at least two years to complete.
In an email to Fortune, Branson said that he's hoping "to use the success of islands -- microcosms of larger energy systems -- to test and prove innovative clean energy solutions."
MORE: First Solar rises again
NRG, whose main business is delivering coal- and gas-generated electricity to the grid in the U.S., has been experimenting with green micro-grids in the region for a while, notably in Haiti. "Veering from Haiti, where no one can afford to do anything, to Sir Richard," has been liberating, says David Crane, NRG's CEO, although each client presents unique challenges.
Branson, for instance, wasn't keen on deeding large swathes of his 74-acre paradise to solar panels. That led to designing a system that combines 700 kilowatts of solar capacity with three, modestly proportioned 100-kilowatt wind turbines. The mix works especially well in the Caribbean, where typically the wind kicks up as soon as the sun goes down. Two 40-foot shipping containers filled with lithium-ion batteries will store up to 3.2 megawatt hours of electricity for distribution on rare nights that are black and still.
"I told my board that as megawatts go, the Caribbean will never be an appreciable part of our business," says Crane, whose company is also working on a project with Starwood Hotels (HOT) in the U.S. Virgin Islands. "But we can deploy there and bring it back to the United States."