The world's largest retailer and No. 1 purveyor of groceries in the U.S. is making a huge push into Whole Foods' territory of organic food.
By Beth Kowitt, writer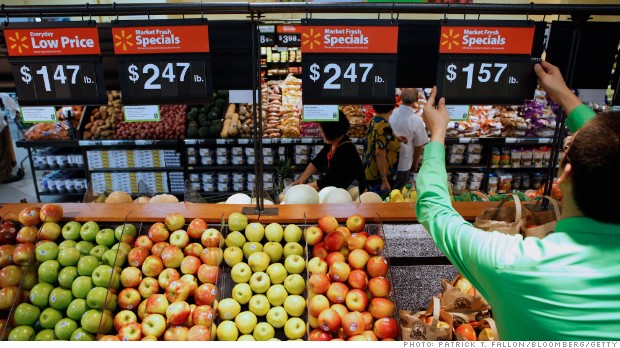 FORTUNE -- Wal-Mart Stores (WMT), better known for its low prices than health-food focus, is making a big push into the organics business.
The retailing giant already sells 1,600 organic products, but the company today is announcing a a new line of goods under the Wild Oats brand. The selling point? They'll be offered at the same price as non-organic national brands and 25% cheaper than the organic national brands in its stores.
"We're removing the premium associated with organic groceries," Jack Sinclair, the U.S. division's executive vice president of grocery, said during a call with reporters. "That's a really important step in the industry."
The move reflects a bigger shift in the national consciousness around food, which Fortune details in its new cover story, How Whole Foods is Taking Over America." Whole Foods (WFM) has led the charge in the retailing world when it comes to organic and natural products. Once the domain of hippies and earthy "granola" types, organic food is quickly becoming mainstream.
As we detail in the cover story, healthy, natural, and organic products make up a $150 billion segment that's set to grow 50% by 2018, according to Penton's Next division. Wal-Mart's internal research has shown that 91% of shoppers told the company they would purchase organic products if they were more affordable, according to Sinclair. While not a huge portion of Wal-Mart's sales, Sinclair said organics are growing faster than company's base business in almost every category. He believes they'll grow even faster if the price premium disappears.
MORE: More than jerky: Patagonia expands in food
Wal-Mart and Wild Oats are starting their venture with 100 products in the packaged goods space, and then may look at expanding into categories such as meat. In many ways, Whole Foods paved the way for Wal-Mart here. Whole Foods' private-label 365 brand, which it offers in 2,000 stock-keeping units and is often the lowest-priced and best-selling item in a category, got a broader base of consumers to try organic in packaged goods. Previously shoppers had mostly stuck to organics in the perimeter of the store where meat and produce are sold.
Shoppers in general aren't as brand-conscious when it comes to organics because it's a new niche, says Phil Howard, a professor at Michigan State University, who teaches community, food, and agriculture. That's helped the ascent of the 365 brand and will likely also help Wal-Mart get customers to try Wild Oats products.
Wal-Mart was smart to partner in its organic endeavors, as the company doesn't have the same level of credibility when it comes to organics as Whole Foods, which has long been synonymous with a healthy lifestyle. Ironically, Wild Oats was a health food store chain that was acquired by Whole Foods in 2007. The brand, however, has continued on.
Wal-Mart and Whole Foods both have big sway in the food industry but clearly for different reasons. Wal-Mart has its size: It calls itself the largest grocer in the country with $156.5 billion in sales in its U.S. division coming from grocery. Sinclair said its scale is going to allow it to offer organics more cheaply. It's taking out the middlemen and making production and distribution more efficient, Sinclair says.
MORE: Climate Change, Inc.
Whole Foods is tiny in comparison with $12.9 billion in sales, but its power comes from being a thought leader in food. It's often at the forefront of issues -- seafood sustainability, the humane slaughtering of animals, GMO labeling. As Whole Foods co-CEO and co-founder John Mackey told me with a laugh as I talked with him for Fortune's story, "We take the heavy blows, and then if it works, people follow." This is just another one of those instances.
Should Whole Foods be worried? Probably not. It's unlikely Wal-Mart's latest move is going to pull the Whole Foods shopper out of its stores. Plus, going to Whole Foods is more than just going to the grocery store -- it's an event and a lifestyle choice. You can have a beer in one of its tap rooms or settle down in the café area to eat sushi. It's hard to envision doing either of those things at a Wal-Mart.